Collaboration between the oil and gas industry and renewables – such as hydrogen and carbon capture and storage (CCS) - can accelerate energy transition.


Oil and gas infrastructure and capabilities can be repurposed for CCS, and to support renewable energy production and hydrogen generation, transportation and storage.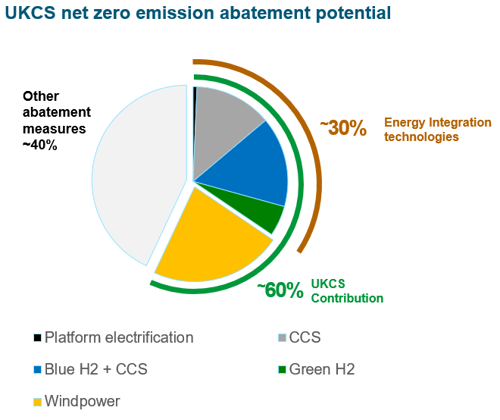 The Energy Integration Project began in early 2019 with a £900,000 grant from the Better Regulation Executive's Regulators' Pioneer Fund. The project's purpose was to explore how different offshore energy systems (oil and gas, renewables, hydrogen and carbon capture and storage) could be co-ordinated across the UK Continental Shelf (UKCS) for environmental and efficiency gains, including identifying technical, regulatory and economic hurdles.
Working with the Department for Business, Energy and Industrial Strategy (BEIS), The Crown Estate, Ofgem and others, we have published the following:
Energy Integration Project Final Report and Energy Integration Project Interim Findings
Phase 2 project publications
Interim Report - which confirmed the technical feasibility of energy integration, providing viable options for helping decarbonise the economy.
We then published the Phase 3 report in February 2022:
Phase 3
Since the project began, the UK became the first major economy to set a target of net zero emissions by 2050; and the NSTA has refreshed its core Strategy to integrate net zero and develop benchmarking to monitor emissions performance. The project also included quantifying how energy integration could contribute to emission reductions.
The results are remarkable. Integration has the potential to make a meaningful impact, with a possible 30% contribution towards the country's overall net zero target, primarily through carbon capture and storage (CCS), and through CCS plus hydrogen.
Adding offshore renewables (wind, wave and tidal) could take that up to 60% of the abatement required in 2050; demonstrating that the UKCS is a critical energy resource. We're working with other regulators, government and industry to ensure this potential is delivered at pace as part of the UK green recovery.
The project has focused on identifying the opportunities and specific barriers the organisations can address, but of course it also sits in the context of wider government policy, such as the work on business models and carbon pricing, which will be important in shaping progress.
For the oil and gas industry, energy integration can help reduce production emissions, as well as accelerate the progress of CCS and hydrogen in support of net zero. These are essential for the sector's 'social licence to operate'. For offshore renewables, there are real opportunities for increased collaboration with oil and gas skills and supply chain for further expansion.
We will continue to work with project partners, industry and others to implement the recommendations and actions set out in this report to accelerate the UKCS net zero potential.
This video, embedded below, gives a brief overview of the Energy Integration Project, which launched in 2019 with the help of a £900,000 grant from the Better Regulation Executive's Regulators' Pioneer Fund, to look at the mix of energy sources and storage solutions needed for the transition to a low carbon economy