Flaring and venting

The NSTA's offshore flaring and venting regime aims at eliminating unnecessary or wasteful flaring and venting of gas.
The OGA Strategy, which came into force in February 2021, incorporates a range of net zero obligations for the UK oil and gas industry which, alongside ensuring economic recovery from the UK's hydrocarbon resources, includes a requirement for relevant persons to take appropriate steps to assist the Secretary of State in meeting the net zero target. This includes reducing greenhouse gas emissions from sources such as flaring and venting.
The NSTA 2023 Emissions Monitoring Report and dashboard allows the user to conduct detailed analysis of emissions performance. It measures greenhouse gas emissions, carbon emissions and intensity, and flaring and venting.
Platform electrification
The offshore oil and gas industry could significantly reduce its greenhouse gas (GHG) emissions by sourcing power for its UKCS platforms either from the shore or from offshore renewables. This is known as platform electrification and will be critical in meeting emissions reductions targets.


Stewardship principles for electrification
On 5 April 2023, the North Sea Transition Authority issued a letter outlining its expectations for platform electrification.


Platform electrification background
The NSTA's UKCS Energy Integration Report  and Annexes - published in 2020 - considered oil and gas platform electrification. The report noted that platform electrification is both essential for cutting oil and gas sector production emissions in the near term and critical to preserving the industry's social licence to operate. 
The 2022 Emissions Monitoring Report outlines three technical emissions abatement scenarios from electrification of offshore oil and gas infrastructure, with indicative total cumulative abatement as a result of electrification deployment from 2027 to 2050.  
In addition, supplying energy to oil and gas platforms could represent a commercial opportunity for renewable power developers today, and co-investing in transmission infrastructure and leveraging oil and gas deep-water technologies could support growth. 
To achieve a reduction in oil and gas operational emissions to help meet North Sea Transition Deal 2030 targets, the industry should deliver at least two operational electrification projects in the 2020s, with the most significant opportunities being: 
Wind power supply and transmission link with the mainland enabling electrification of new oil and gas projects West of Shetland​ 
Existing oil and gas facilities in the Outer Moray Firth and Central North Sea could be electrified as hubs through connection to wind power developments or transmission links with the mainland 
Offshore wind synergy opportunities exist across Scottish waters via the Innovation and Targeted Oil and Gas (INTOG) or ScotWind leases
Cross-industry opportunities in the Southern North Sea, due to closer proximity between windfarms and oil and gas operations, and Allocation Round 4 windfarms as future expansion​.


Platform Electrification Notional Concepts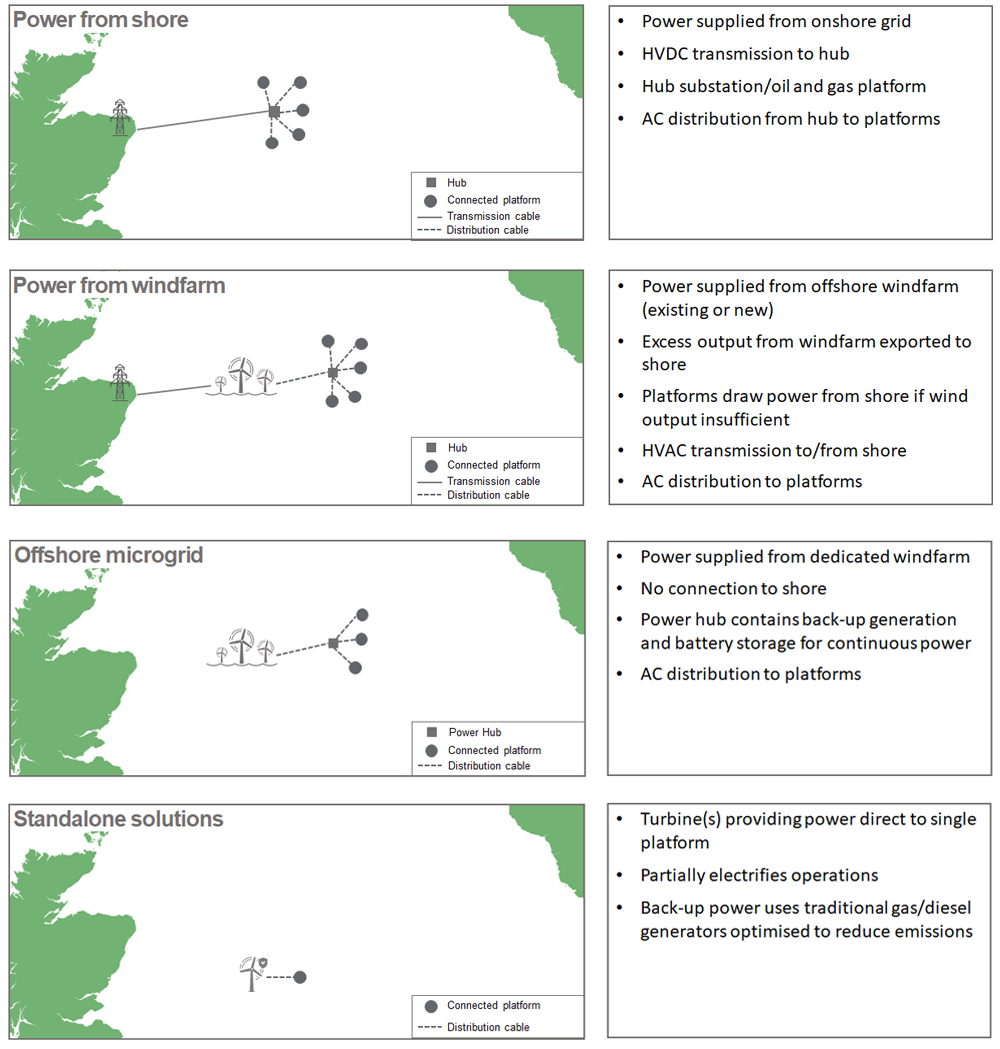 Electrification Competition
In 2022, the NSTA awarded £1 million of funding provided by the UK government between three studies aiming to advance oil and gas industry offshore electrification plans  – further details here.
The three winning studies looked at concepts which do not require power from shore, instead creating standalone power systems using renewable power, which can be complemented by power cables from onshore. Collectively, the projects have demonstrated the potential of innovative power solutions applied offshore, and cross-industry synergies with cost effective emissions reductions of up to 90% achievable. The winning studies were: