Production data
PON 7 and petroleum reporting is handled under the PPRS
(Petroleum Production Reporting System) system.
For guidance on production - PON7 Guidance
To submit production returns log in the Energy Portal.
For any issues with the PPRS system or questions on PPRS data please contact correspondence@nstauthority.co.uk.
How to view production data
There are a couple of ways to view the information you are looking for (using the Huntington field as an example):
Got to the open data site using the link below
Select a dataset - e.g. NSTA Field Production Points, PPRS (WGS84)
NOTE: the point versions of the datasets are much smaller files and download much quicker
select the filter tab at the side
select 'Reporting Unit Name' in the list
A search bar appears above for reporting unit name, use the drop down and type into it 'HUNTINGTON'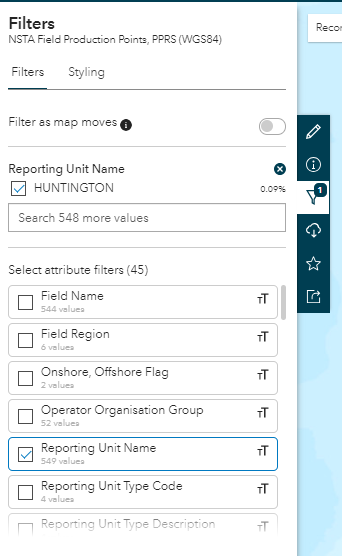 Apply as many filters as you want to narrow down your search results or to make your query more specific)
Open data
You can save a filtered version of the data tab as a dynamic web link on your desktop. This will enable you to always view the most up to date production data without applying the filters every time you visit the Open Data site. Copy the URL and save it as a shortcut on your desktop.
On the same page you linked to, go to Download on the top right. You can download the entire production history as csv and use Excel tools to filter.

On the top left box, you'll see several ways to filter across the top. Use the filter by company, field, and unit type and search for Huntington, then use the switch on the top right to switch that filter on.
If you want to view the results on the graphs in the middle, go back to the first tab (filter by date), set the dates you want, then use the switch on the top right to switch that filter on too.
If you wanted to download your filtered information as a spreadsheet, on the bottom table, go to Options at the top, and Export all to CSV.
Production dashboard app
At the top, there's a Field Name filter, type in Huntington and click the suggestion it gives you.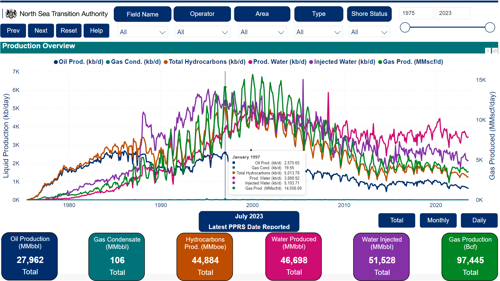 You can use the boxes on the top left to view the type of production you need.
Production dashboard