This third Wells Insight Report, published in October 2022 by the North Sea Transition Authority, highlights significant opportunities remaining in the UK Continental Shelf despite a continued low level of well activity in 2021.


The report's findings are based on an analysis of data from the 2021 UK Stewardship Survey, providing real insight into well activity in the basin.
The report includes trends and performance benchmarks in three distinct well categories: exploration and appraisal (E&A), new development wellbores, and existing well stock activities.
The interactive, searchable publication reveals that 10 E&A wellbores were spudded in 2021, up from nine in 2020, but down considerably from 29 in 2019. Sixteen high probability E&A wells are planned in 2022.
Click on this link for access to the Well Insight Report interactive version: WIR 2022 Interactive
A PDF version is available at this link WIR 2022 PDF


Key findings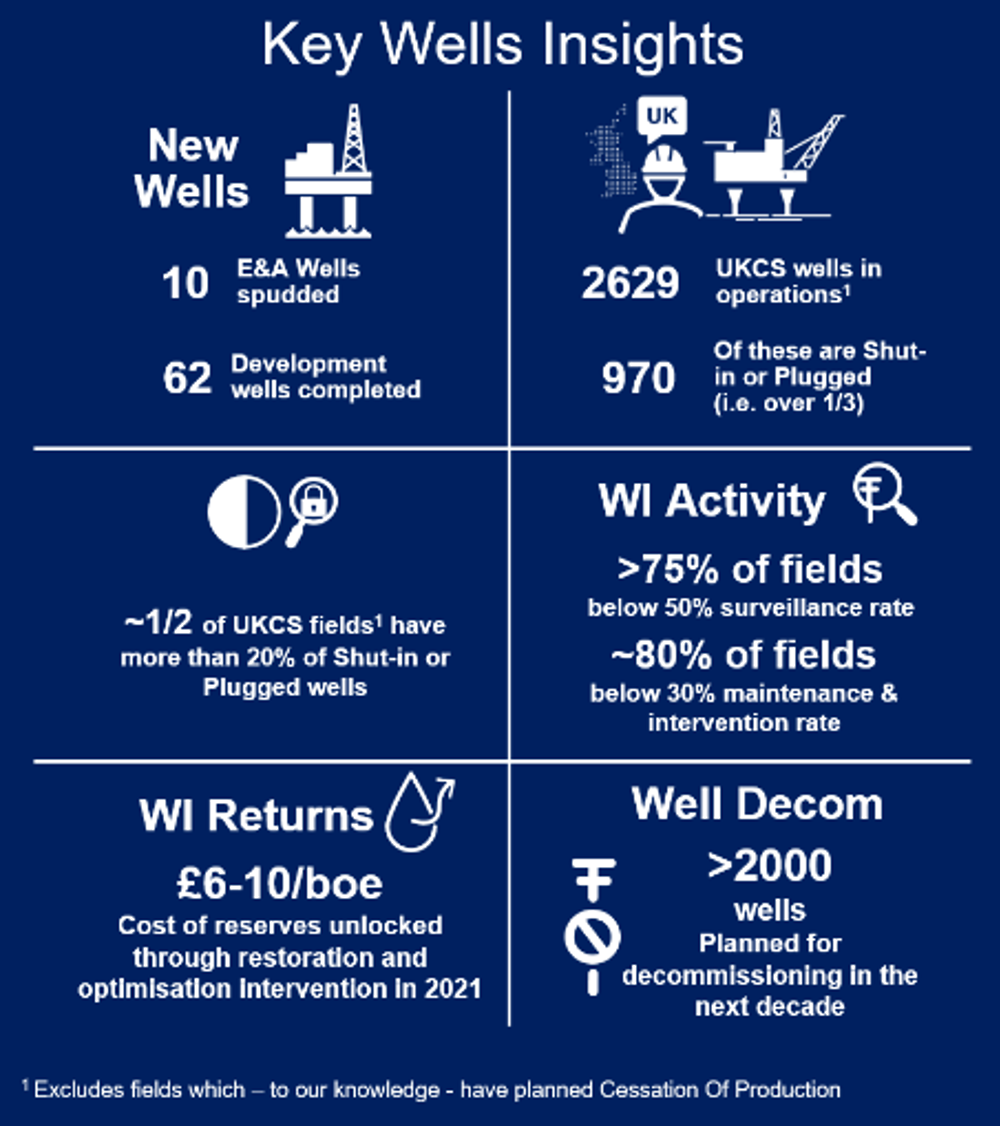 A total of 56 new development wells were spudded in 2021, down from 62 in 2020 and 107 in 2019, a year which saw numerous multi-well campaigns, but similar to 2017/18 levels. Development drilling spend dropped to £1.3 billion in 2021 from £2.1 billion in 2020, when more complex developments, such as high-pressure, high-temperature (HPHT) fields, were drilled. As of the end of 2021, only 49 wells were planned for 2022, however there is a forecast rebound in drilling activity with more wells planned in 2023 and the high commodity prices likely to firm up development well approvals.


More than 8,000 wellbores have been drilled to-date on the UKCS. The current active well stock (excluding wells permanently abandoned) comprises 2,629 wellbores, of which 1,661 are producing, while the number of shut-in wells rose to 781 in 2021 from 716 in 2020. Many of these wells might still be valuable if production was restored. 


Surveillance levels increased to 25% last year from 21% in 2020, mainly due to new wells West of Shetland having continuous surveillance, while intervention-based surveillance remained low at 4%. This is far below the 50% target recommended by the North Sea Transition Forum's Wells Task Force. 


Well intervention rates also dropped slightly in 2021 to 15% of total well stock, compared with 17% in 2020. This low intervention rate may be due to the large maintenance backlog from 2020 limiting capacity for intervention operations. 


Production added from interventions in 2021 was also at a historical low of 36.2 MMboe/year, compared with 54 MMboe/year in 2020. The average unit cost of interventions remained low, with many costing £5-10 per boe. This should encourage more operators to undertake intervention operations, with the higher commodity prices also making previously uneconomic interventions more viable.
Well decommissioning was included to highlight the vast scope of work planned for the next decade with more than 2,000 wells planned to be decommissioned. More information on well decommissioning can be found from the 2022 UKCS Decommissioning Cost Estimate and the UKCS Decommissioning Benchmark Report 2021.
The NSTA is supporting industry through improved wells stewardship, which includes working with operators and service companies, sharing lessons learned, and bringing new and improved well technologies to the field.
With the increase in demand for rigs, equipment and personnel due to high commodity prices, it is more important than ever to engage early with the supply chain to highlight future project plans and activity. To facilitate this the NSTA actively encourages companies to use Energy Pathfinder, which provides greater visibility of future plans.


Previous years' reports
Interactive reports
PDF documents
Click to on the items to download.
Click to on the items to download.