Greater numbers of Reservoir and Well Management technologies are being adopted by operators on multiple assets, improving knowledge of ongoing well status and monitoring of integrity issues, and reducing costs of interventions and dependence on costly rig based workovers.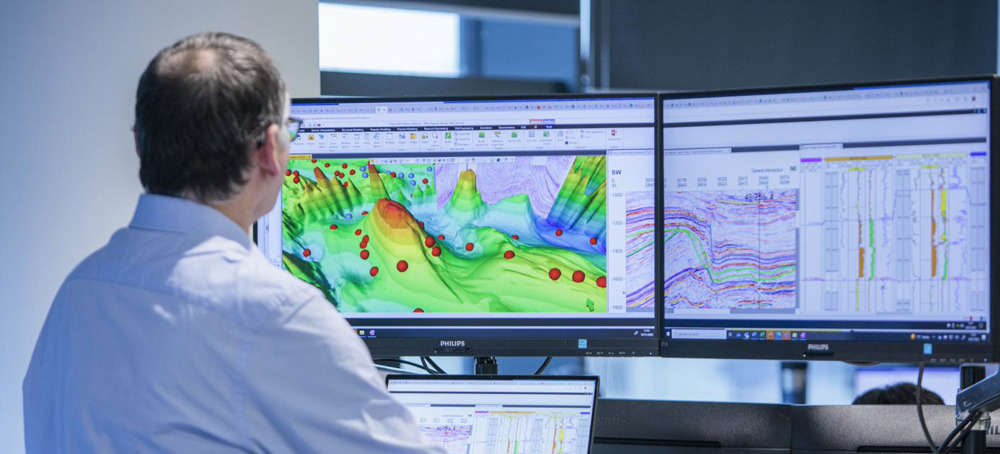 Summary Findings (Click on Categories for detail)
Reservoir & Well Management technologies
Over 50 technology plans submitted each year from 2018 to 

2022

​



Steady Decline in number of individual technologies reported, 

together with the number of operators reporting interest in this 

area (Participation declining from 30 operators in  2018 to 23 in 

2022) 

​
​

A number (30) of respondents not yet considering this theme 

(based on submissions)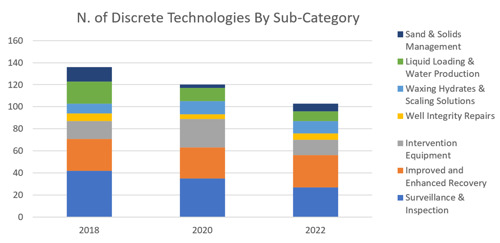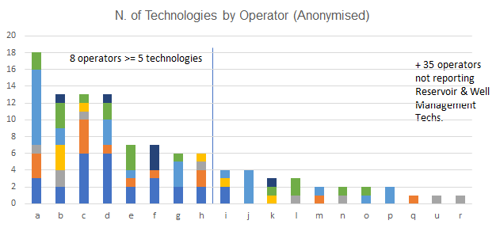 + 30 operators not reporting Reservoir & Well Management Techs
Operators are focusing on a smaller number of technologies ready for deployment (Early Commercialisation TRL 8) and Existing or in widespread use (TRL 9)


The pipeline of technologies under development (TRL 1-7) remains healthy


Maturity and deployments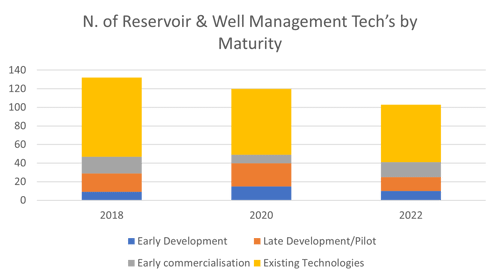 Once familiar with the technology the same operator deploys it at multiple assets (over 300 deployments reported/planned for 2021-23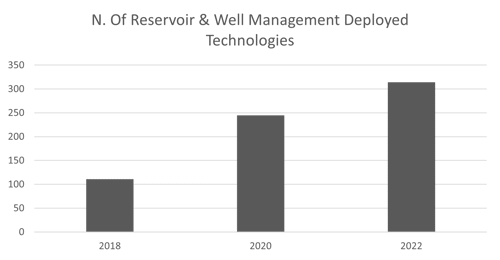 In the following, detail on reported technologies is showing increased adoption by a larger range of operators this year.
1. Surveillance & Inspection
In this sub-category the growth in reservoir monitoring solutions in both fibre line and wireless well monitoring methods is showing increased adoption by a larger range of operators this year.
DAS (Distributed Acoustic Sensing) uses fibre optic technology in a number of new reservoir sensing methods - The Disposable FLI system uses fibre-optic technology to capture distributed temperature and acoustic measurements along the entire length of the well in real time.
Technology Example :​
WellSense system uses dis-solvable coated fibre lines attached to a disposable sensing tool The FLI probe and fibre are single-use and sacrificial so can be left in the well at the end of the survey
View Technology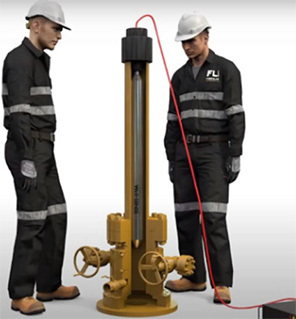 DFO (Distributed Fibre Optic), DTS (Distributed Temperature Sensing) and DAS – VSP (Vertical Seismic Profiling - DFO provides understanding on zonal inflow allocation, drawdown optimization, completion integrity and cap rock monitoring and well start-up optimization. (BP - Clair Ridge) DTS fibre-optic technology for permanent monitoring to provide temperature measurements over the complete length of the wellbore. (Neptune - Cygnus)
DTS fibre-optic technology for permanent monitoring to provide temperature measurements over the complete length of the wellbore. ​
DAS VSP technology can be used to augment 4D seismic programmes through the provision of low cost, localised and on demand seismic surveillance.

BP & TotalEnergies (BP Clair Ridge & TotalEnergies Culzean) 
Technology Example :​
DTS fibre-optic technology –Baker Hughes SureVIEW™ Coil Distributed Temperature Sensing (DTS) multi-well performance monitoring through a coiled tubing-enabled Optical Fiber
View Technology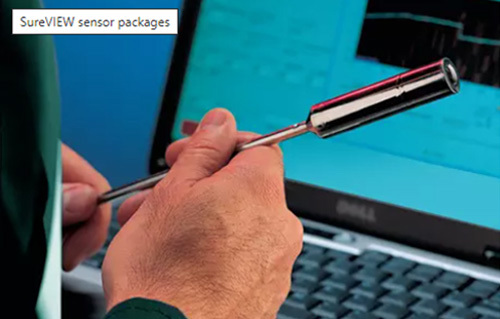 Wireless reservoir monitoring is also showing increases in the number of methods, and rate of adoption amongst operators. This technology  enables constant communication, and pressure data to be read in suspended wells, and can be used to determine early stages of scale deposition.  
Wireless Bottom Hole Pressure Gauges - Downhole pressure monitoring to determine scale deposition at an early stage to mobilize a water wash of the well, also to evaluate salt scaling to optimize waterwash frequency.

Wintershall (Sillimanite, Wingate)
Technology Example :​
Example of this technology from Schlumberger using "Signature gauges" enabled by Muzic acoustic telemetry this technology enables constant communication with the gauges
View Technology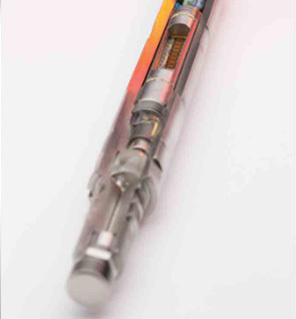 Long-term downhole acoustic wireless telemetry gauges - Metrol Gauges Hurricane Energy - long-term downhole acoustic wireless telemetry gauges which allow pressure data to be recovered from suspended wells ​

Hurricane Energy (Lancaster)

VR Transmitters - (Remote Remedial - Apache Beryl), Remote/Remedial Well Surveillance -Pressure monitoring of abandoned wells. Planned to be used on a tertiary exploration well in 2020 to assess depletion of the reservoir sands during an extended production test on an adjacent well. ​
2. Improved & Enhanced Recovery
Operators technology plans for 2022 show an Increase in numbers of artificial lift technologies including ESP's and Gas lift, with focus on retrofit devices and alternative conveyed methods
Retrofit Slimline ESP's - Slimline ESP's for retrofit installation and removal for maintenance/repairs without a workover    

(Repsol Sinopec, Spirit Energy)
Alternate Conveyed ESP's – Remedial ESP's deployed by coil/cable, Investigation and field trial of alternate deployed (e.g. coil/cable), remedial ESP systems, alternate motors (e.g. permanent magnetic)
Technology Example :​
The thru-tubing ESP is deployed through a surface lubricator and lowered inside the existing production tubing. Easily retrieved using only the cable.
View Technology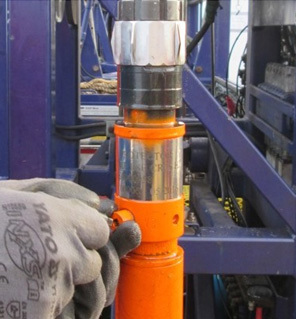 IGLS Inverse Gas lift System - enables IGLS installation in wells that have not been configured for conventional gas lift,

TotalEnergies (Allwyn North & Dunbar)
Velocity String – In depleted field with lack of motive power to produce, Through Tubing Velocity String installation to surface with new approaches to utilising the SSSVProprietary Gas lift system

Harbour Energy – (Lomond, Jade, Jasmine, Judy)
Technology Example :​
Weatherford - Renaissance® inverse gas lift system (IGLS - By deploying a 5.5 × 4.562-in. Renaissance® inverse gas lift system (IGLS) into the existing production tubing, it can be used when annular integrity problems would normally preclude gas injection.
View Technology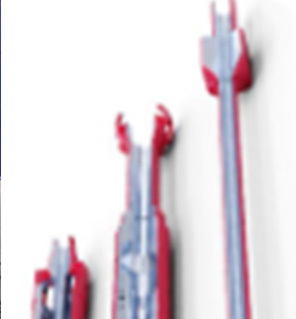 Schlumberger PNX - Wireline cased hole spectroscopy tool to allow formation evaluation behind Casing

Harbour Energy (Lomond, Jade, Jasmine, Judy)
Multistage propped fractures - Modelling of frack opportunities within Columbas and Ninian Slumps using Calgary in-house software and expertise
Magnetic Nano particles infused Foam – Modifying foam formulation by adding magnetic Nanoparticles to improve foam column agitation & stability

Harbour Energy (Dalton, Jade, Judy, Jasmine) TRL 8 Early Commercialisation
AGLS Systems (annulus gas lift slimhole completion) – 2 first in the world AGLS workovers (Annulus Gas Lift System - slimhole completion)

Spirit Energy - (Statfjord) TRL8 Early commercialisation
3. Intervention Equipment/Well Equipment
Intervention equipment sub-category continues to show operators adopting technologies for improving well access for interventions, and low cost workover rigs to reduce the costs of well interventions​
OneSubsea MARS* multiple application reinjection system serves as a universal interface for trees (topside and subsea), enabling processing equipment to be installed between the existing isolation barriers, thus eliminating the need for challenging intervention. ​

Dana/KNOC – (Bittern) BP (Schiehallion)
​
Technology Example :​
OneSubsea MARS - Providing low-cost, low-risk intervention - cost-effective wellhead processing. MARS system technology can be used for both vertical and horizontal production trees in surface and subsea applications.
View Technology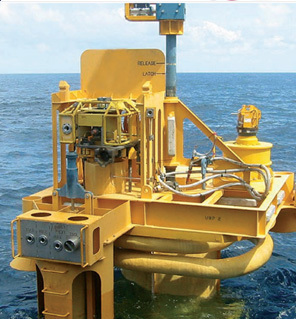 Dwellop's Lynx Mast – The DWELLOP Lynx WireLine Mast is designed to improve wireline mast operations on fixed offshore installations. It improves access, rigging time and safety for personnel – enabling safe and efficient wireline operations. ​

Shell (Shearwater/Starling)
​
Technology Example :​
The new 90' LynxTM Wire Line Mast is setting a new industry standard. Introducing superior efficiency, increased working environment and without the need for external cranes once installed. Also features BOP access in compliance with Norsok S-002,.
View Technology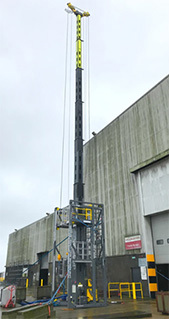 Wellvene's WellHop lightweight wireline system, - Full wireline spread takes minimum 6 POB, typically 48 hours+ to rig up and ~24 hours to move between wells. This puts strain on platform schedule/manning the WellHop system is lightweight, unitized and designed for minimum rig up/down time. ​

Harbour Energy – (Millom)
Technology Example :​
WellHop system is lightweight, unitized and designed for minimum rig up/down time, and reduce manning requirements.
View Technology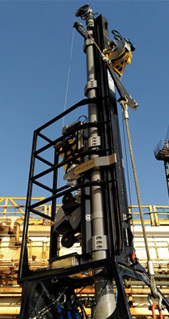 Flow Assurance Module (FAM) – A valve manifold module fixed on the annulus side of the Xmas tree to allow injecting scale inhibitor down to the well without breaking tree cap. This allowed Anasuria to use ROVSV rather than LWIV for scale squeeze with less intervention days.​

Anasuria Operating Company (Guillemot A)TRL 8 Early Commercialisation ​
Other Technologies in this sub-category include: Wireline Technologies such as WellAnt Abrasive Cutting tool for well bore obstructions, Razor multi purpose tool to bridge plugs, stroker, punch and cutter Rigidlock Deepwater wellheads, and Realtime Coil tubing for data collection during interventions.
4. Well Integrity Repairs
Well Integrity repairs continue to show strong innovation in providing solutions for wellhead leakages, Tracking well leak paths and tubing retrievable/retrofit SSSV's ​
Novel wellhead sealing for production wells due to integrity issues - A time activated sealant is deployed in its liquid phase into the voids of wellhead sealing areas. Once in place, the sealant converts to a resilient, self-bonding and pressure-energized solid material that acts as a static pressure-retaining barrier to re-establish full Well Integrity of the Wellhead ​
Distributed Fibre Optic Cable - By utilising this available technology, the fibre enabled slickline cable records Distributed Acoustic Sensing (DAS) & Distributed Temperature Sensing (DTS) data. This has the ability to find potential leak paths through outer casing strings or through cement sheaths. This is particularly true where leak paths / fluid movements are periodic & not identifiable by conventional logging tools. ​
HPHT Storm Choke - Pressure dependent valve to replace failed SSSV operation ​
Wireless Downhole Safety Valve - SLB's retrievable wireless subsurface safety valve system helps operators restore wells and resume production after SSSV failure in - producing and injection wells. ​ 

TotalEnergies – (Alwyn North) TRL 8 (Early Commercialisation)
​
Technology Example :​
Schlumberger – Wireless Downhole Safety Valve : wells that require remediation after a  (TR-SSSV) failure, or wells originally completed without a subsurface safety valve and now requiring one due changes in policies or regulations
View Technology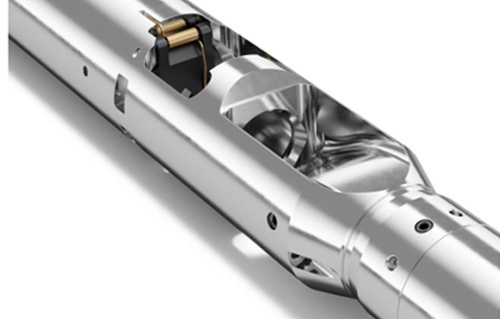 5. Liquid Loading & Water Production
Liquid Loading and Water production sub category has also shown strong growth in the range of new products to improve flow, and trace the production geology of the reservoir, emerging technologies for improving well water and liner shut off, together with rejuvenation techniques for shut in wells
Drag Reducing Agent (DRA) injected into seawater stream to increase water injection volumes ​
Water tracers - Allowing identification of open perforations and also the early identification of water breakthrough from individual zones – ​

Shell – (Arran, Fram, Merganser & Shearwater)


Technology Example :​
Typical reservoir communication study using chemical tracers (Tracerco – Interwell study to gain insights about waterflood, steam, gas or CO2 flow between wells). It can provide sweep efficiency information, display flow trends, and indicate the presence of high permeability channels. It can also function to identify if there is any active cross flow present between adjacent or vertical zones.
View Technology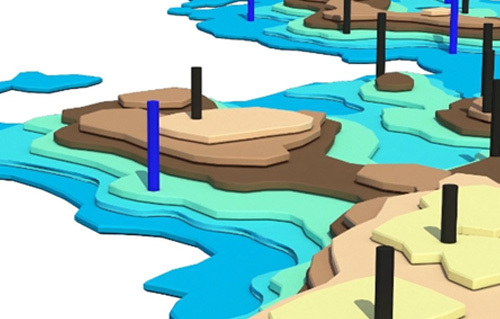 Horizontal Well water shut off - A study showed the most applicable technologies to use are mechanical plugs to achieve a seal in the wellbore and highly thixotropic polymer gels to achieve a seal in the annulus ​

KNOC/Dana – (Guillemot North, Guillemot West, Pict & Saxon)​  



Rejuvenation of shut-in wells - wells are shut-in due to liquid loading or sand/proppant fill. A well was restarted successfully by controlling the drawdown of the formation to avoid water coning​
Replace shut off plugs with check valves in liner - Running check valves in place of shut-off plugs in liner. Successful application in 2018. a further Candidate was identified for installation in 2019 ​
6. Waxing Hydrates & Scaling Solutions
The Waxing Hydrates & Scaling solutions sub-category is showing more innovation this year with deployable technologies using Mechanical, Radio Frequency signals & Electro Hydraulic Pulsing technologies, Emerging Technologies using Chemical's such as Kinetic Hydrate Inhibitors ​
SPIN tool Technology - The SPIN device is a mechanical scale prevention tool developed by Scale Protection. It prevents scale from growing across the safety valve by changing the flow pattern of the reservoir fluids through the valve. It causes wellbore fluids to swirl reducing the amount of scale that is formed at the flow tube area. ​ 
ClearWell - Scale build inhibitor - ClearWELL™ is a surface mounted scale control technology which transmits radio frequency signals along production tubing. It is highly effective in inhibiting the formation of mineral scale in oil and gas wells or in surface processing equipment. A low cost, low risk, long-term solution to maximise production. ​

TAQA Cormorant North, Spirit York) ​


Technology Example :​
ClearWell examined five North Sea wells and made recommendations for how ClearWELL™ technology could address their calcite scaling. And subsequently installed ClearWell system on the platform.
View Technology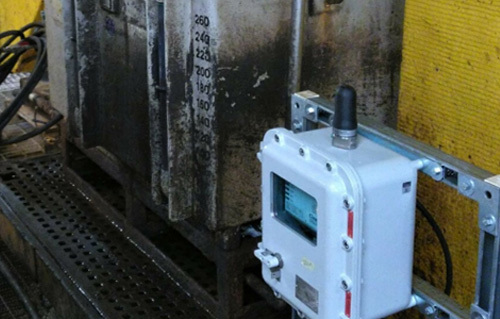 Technology Example :​
Bluespark WASP - Wireline deployed high pulse tool for scale removal and production stimulation
View Technology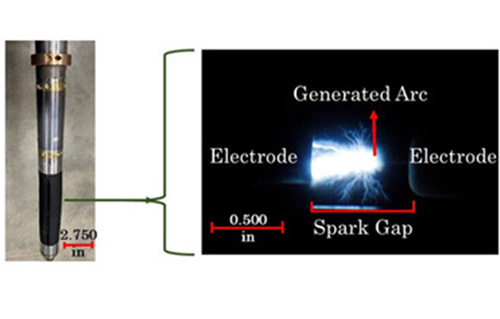 Small Footprint Coil - Small footprint coil tubing for removing salt/scale at HT & depth>16,000ft​

Harbour Energy (Brittania/J-Block) TRL 5-7 Late Development/Pilot​



Kinetic Hydrate Inhibitor's - Prevents the creation of hydrates - allowing for better flow along the pipeline - Kinetic hydrate inhibitors (KHIs) interfere with hydrate crystal growth or nucleation by embedding themselves into the lattice structure, delaying significant growth for longer than the fluid's residence time​

Shell (Arran, Fram, Gannets, Shearwater, Merganser, Starling) TRL 5-7 Late Development/Pilot​



Ultrasound Based Technology for removal of scale from downhole production tubing - Removal of Scale in a safe, quick and economical way to maximise recovery from wells with a tendency to scale. Ultrasound Based Technology for Removal of Scale from Downhole Production Tubing​

Harbour Energy (Britannia, Jasmine, Judy) TRL 1-4 Early Development​
7. Sand & Solids Management
Sands & Solids Management reported technologies are: retrofittable downhole sand screens, porous foam and Oil Based Gravel Packing are deployable, and in emerging technologies we have low cost sand control completions and EHS screens.
Dual string perforating and retrofitting downhole sand screens - Interventions in two wells during 2020 to shut-off water from the lower reservoir, and access attic oil behind the production casing. The latest perforating technology was tested to achieve the required penetrations of the tubing and production casing set across the upper reservoir section. Downhole sand control using 3M ceramic will be deployed - as conventional steel screens would likely be cut by the velocity of production through the perforated tubing/casing.
GeoForm - Porous foam that set around liner for sand control​
Oil Based (NAF) Gravel Packing - Increased productivity in low net to gross reservoirs​
Technology Example :​
Ceramic sand screens from 3M showed enhanced longevity in comparison with Steel screens in an extreme hardness erosion test. The 3M Ceramic Sand Screen Systems were more resistant to chemical attack by fluids such as hot sulfuric acid, aggressive completion fluids and other corrosive chemicals used in the oil and gas operations industry
View Technology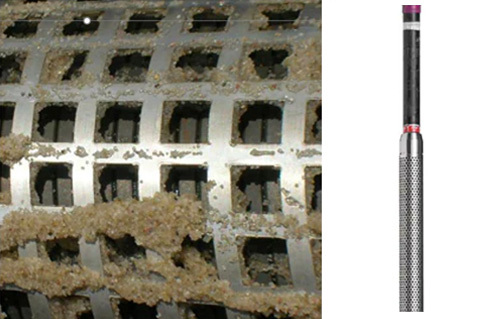 Reliable low cost sand control completion - Evaluate alternative sand control completion designs that are reliable and maintain recovery, enable the development of reservoir targets that are marginal currently - maximise economic recovery, extend field life.

(Ithaca Alba) TRL 5-7 Late Development Pilot 



Endurance Hydraulic Screen Solution - New screen filter development for EHS solution that will enhance screen productivity​

Spirit (Statfjord) TRL 1-4 Early development