NSTA analysis of data submitted in the annual stewardship survey and the Technology Plans allows delineation of emerging trends related to industry focus on technology across the asset lifecycle, technology maturity, sourcing of technology, supply chain engagement and operator technology spend.​


This consolidated view of technology deployment by operators is an important indicator of the state of the industry to meet current needs and to highlight priority areas of focus to help prepare for the future.


Technology focus and UKCS priorities​
Since the NSTA began the annual Technology Plan survey in 2018, there has been steady growth in the total number of operator reported technologies either in use/planned to be used or identified as a "need"
In 2022 1080 Discreet Technologies were referenced, this increase includes removal of some successful technologies now considered mainstream and unsuccessful technologies that have been dropped following un -commercial pilot studies. It should be noted that the total number of Deployed technologies also shows a healthy increase as operators deploy these on greater numbers of assets  ​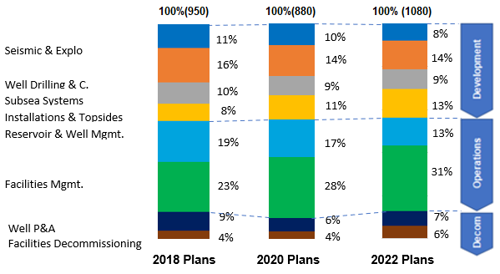 Number of technologies in operators plans by category
The distribution of technology activity across the eight categories gives an insight on where across the asset lifecycle industry is focusing efforts to leveraging benefits from technology development and deployment
The proportion of technologies related to exploration and field development activity has remained relatively constant except for Well Drilling & Construction which reduced by nearly a third in 2020, and dropped again in 2022
Production operations related activities accounted for the greatest proportion of technologies reported (38% of total)

Facilities management showing significant growth in number of technologies driven by increased focus on Maintenance and Operations activities, we are seeing the benefits of the accelerated deployment of NII technologies following successful pilots reducing offshore manhours, improving operator safety, and offering significant cost savings by removing need for site visits, and removing need for stripping of insulation for corrosion inspections
Reservoir and Well management is becoming a focus area for operator technology activity – well surveillance and interventions are key areas where operators are seeing benefits of new technologies enabling rigless intervention techniques, wireline deployable ESP's and DHSSV's, retrofittable gas lift systems, and disposable fibre optic technologies for enhanced well surveillance.
Ocean bottom seismic is being employed in greater numbers improving the quality and resolution of reservoir data, and improving visability of trapped volumes, missed pay and tracking faults, new developments include UHDOBN, and remotely deployable and moveable Autonomous nodes, also OBN's on a string.

Decommissioning of facilities is showing a disappointing decreasing trend in 2022
If this trend persists, the availability of technology options to deliver operational performance improvement and help reduce wells decommissioning costs could be limited.
Further analysis of the technology trends within the eight categories can be accessed using the following links

Technology maturity
Operator SE08 submissions also provide useful insights to industry patterns on the state of technology utilisation and development.
Data on the maturity stage of the technologies included in the operators submissions shows that they are increasing relying on established technology to meet their technology needs. This trend is increasing in 2022 data, Established technology currently provides over 70% of operator solutions.Subsea and Well P&A are the only areas where operators indicate that they are more reliant on technology solutions at earlier stages of maturity with established technologies only accounting for ~ 44% of solutions.
Technology at early commercialization stage continues to provide a significant contribution, however, for 2022 the data indicates an increase in the proportion of technology reported to be coming through early and late development stages. Undefined Maturity indicated a technology gap, so for 2022 the undefined technologies have been removed, due to the greater number of technologies this year all maturity levels have seen a healthy increase in numbers .
Without further operator focus on emerging technologies, these trends imply that the reliance on established technology to meet industry needs will likely continue as the earlier stage technologies coming through the solution pipeline continue to mature.

Maturity of technologies reported by Operators


Technology delivery
Analysis of operator submissions also yields useful information on technology sourcing and role of the supply chain, industry organization's and academia in the provision of technology solutions.
Operator reliance on vendor solutions increased markedly from 40% in their 2017 technology plans to over 65% in 2020 but has fallen back to 55% in the most recent survey
Collaboration continues to play an important role in technology provision, however, with partnership with the supply chain, participation in JIPs and growing involvement in Net Zero Technology Centre programs all contributing.
In-house development is shown to have expanded to 19% in 2022 which may also reflect changes in the types of operator active in the basin, note that a tidying up of historic data has resulted in a marked reduction in Technologies with undefined technology delivery methods.
A notable omission in the operator plans is reference to technology sharing from other industries which could be useful resource e.g., asset integrity and digital applications Vendor investment in technology is not directly reflected in the operator reported spend therefore it is not possible to assess to what extent the increased reliance on the supply chain has or could translate into investment in new technology.  The increased use of existing technologies by operators possibly reflects a gap in emerging technology due to the impact of challenging sector economics in recent years on both operator and supply chain sectors and changes in operator profile on the UKCS. However, a pattern of continued dependence on existing technology could also act a deterrent to new technology investment and development unless the increasing role of the supply chain in technology provision is also given the stimulus to invest to meet the emerging technology needs of the UK oil and gas industry through the energy transition.


Operators Technology Spend
Operators submit information to the NSTA on the level of spend relating to the deployment of technology through the Stewardship Expectations SE08 annual returns.
Operators are required to report spend relating to R&D (in-house, external and sponsored) and Total Technology spend. The difference between the two represents 'field' Technology Transfer spend utilising emerging or existing technology to provide solutions.



Reported technology spend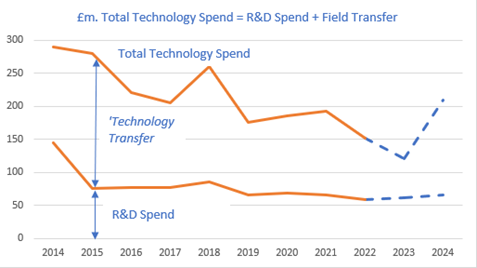 Returns from 112 UKCS operators have been reviewed over a 5 year period from 2017-2022
R&D spend consistently accounts for about a third of the Total Technology spend
Overall, operator technology spend has declined over time although the number of technologies reported has more than doubled
A near 30% drop occurred after the 2014 oil price crash and despite a rebound in 2018 due to oil price recovery spend, continues to reduce till 2023, however this year's plans show an encouraging planned future increase in spend in 2024
Spend remains concentrated within few operators (~ 10 operators account for ~ 90% of Total Technology spend)



Total technology spend by operator (2022 act.)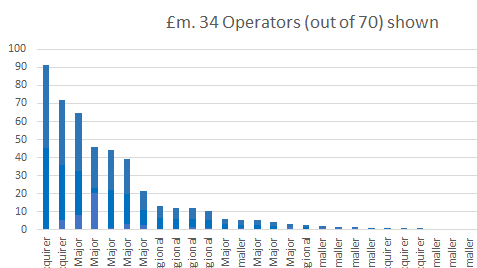 Impact of Industry Turnover on Technology Spend
The 2022 returns indicate that spend by category also follows the operator activity focus on Asset Management and Exploration. 
This implies operator commitment to activities that directly contribute to enhance production from existing assets and seek to deliver for energy security, also reduce costs of offshore manned visits for many inspection processes.
Disappointing reduction in technology spend in Decommissioning/Well P&A as the spend continues to mirror the comparatively lower focus by operators on Decommissioning activity
Similar reduction in Well Drilling & Construction
Increases noted in Seismic & Exploration as operators seek to increase recovery from existing well stock and add infill/local step-outs opportunities, also
Growth in Operations Technologies driven by focus on Remote Inspection technologies, NII, Robotics and Multiple uses of UAV's/Drones – in "hard to reach" areas – Where working at Height/Rope access would be required - Aerial Video mapping, Emission's Monitoring at the flare stack and Vessel internal Inspections – reducing manned entries.

Technology spend distribution (2021, £191m total spend)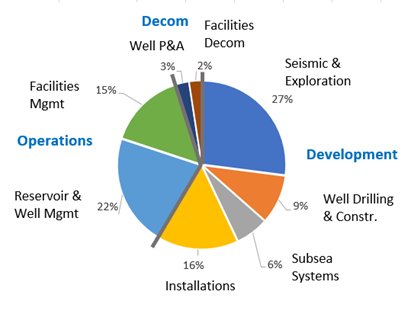 Disclaimer
The technologies referred to in this report are for illustrative purposes only and other technologies may be available. The NSTA does not directly or indirectly endorse, recommend or guarantee any entity, product or technology referred to in this report.